PRESENTATION OF THE ASSOCIATION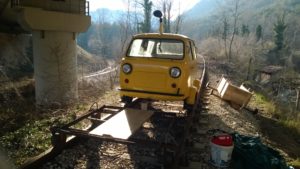 The cultural association "OdV Vecchi Binari F.V.G." has as its object and main activity the historical memory of the railways in Friuli Venezia Giulia, and where possible to promote their enhancement (especially if abandoned or suspended), using railway material with pedal or lever traction (historical and otherwise) as well as material steam, thermal or electric traction rail.
The idea of ​​establishing this Association was born from a group of enthusiasts in the sector, who already had some service rolling stock operating on the lines of our region, and which have been meticulously restored by the members and now fully functional.
The same members, driven by the enthusiasm of this result, decided to contact the regional company "Ferrovie Udine Cividale srl" and subsequently with the entity "Città Metropolitana di Bologna" (formerly the province of Bologna), as in the collection historic of the latter, there was the steam locomotive "Henschel T3" SV 321, built in 1906 and remained in operation on the Carnia-Villa Santina railway until 1968. This allowed the Association, in partnership with others, to obtain on loan for use the same. This vehicle is now at the Ferrovie Udine-Cividale depot for the subsequent phases of restoration and commissioning. Contacts have been made with the current owner of the Carnia-Tolmezzo link for some time, the "Carnia Industrial Park", to obtain the assignment of the section, currently no longer used, where then to allocate and keep the same locomotive.
The primary objective would be to build a railway depot near the Carnia railway station, using Community funds through the local GAL Open Leader, thus creating a historical / exhibition space and related association headquarters, as well as support as a logistic center for the nearby railway Friulian foothills tourist; It could also be thought at a later stage, to reuse the Carnia-Tolmezzo connection for the purpose of transit of historical and non-historical railway material, aimed at eco-museum railway tourism, a project that intends to trace what is done and valued on sections of abandoned parts of a large part of the Center and Northern Europe.
The connection – although not active – was renovated in 2001 with partial replacement of the armament, but to date it would require some maintenance and consolidation works to make it functioning again, even if partially.
The character of the association is voluntary, non-profit and is aimed at spreading the railway culture in our territory, trying to bring the new generations closer on this issue, as the railway must be seen as an ecological, future-oriented means of transport as well as a flywheel of playful and tourist projects.
To conclude, we believe that this project of ours can be of real added value for the mountain area in particular and can become a real meeting point, especially involving the local communities.